Ian Carr & The Various Artists.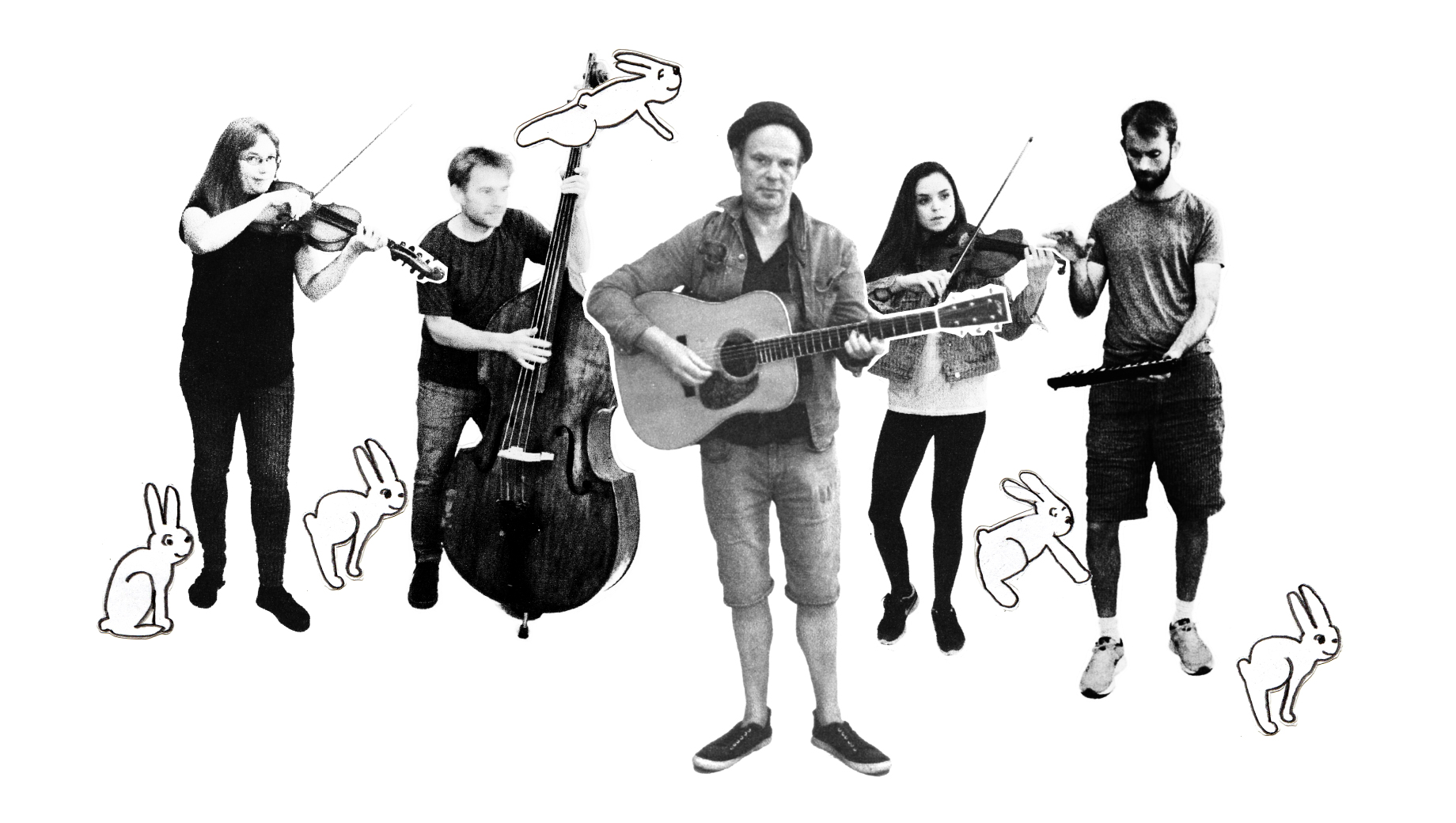 Left to right: Maria Jonsson, Staffan Lindfors, Ian Carr, Laura Wilkie, Thomas Gibbs.
"…one of the most inventive, quirky and downright grin-inducing albums this reviewer has heard in years"-Dave Haslam, RnR Magazine.
"….musik som bubblar av såväl livsbejakande spjuveraktighet och känslig precision." Patrik Lindgren, Lira
(means " very good indeed" in Swedish)
Ian Carr & The Various Artists was formed at a session in a living room in the West End of Glasgow and have been performing together since their first gig in 2015, at Celtic Connections in that very same city. With brilliant arrangements and an impressive ability to swing deeply at tempos from slow waltz to frenzied reel, and Ian leading the audience through the tunes and songs with his captivating story telling. A regular feature of recent Swedish gigs were delighted audience members telling the band that they were reminded of Frank Zappa! Hence the bands new motto: "Zappa & The Mothers of Invention go deep trad"!
We are:
Maria Jonsson, viola d'amore/ vocals- Maria is a Swedish Rikspelman ( accredited performer of traditional music) who specialises in the music of Västerbotten in the North of Sweden, where she was born. Maria recently received the Dalecarlia Music Award for folk music . When not playing concerts she loves being a Suzuki violin teacher by day.
Thomas Gibbs, keyboards/ vocals- a great pianist active in many musical spheres, his " Fear of Flying" album made Mojo magazines jazz album of the year 2013. Tom teaches jazz at the Royal Conservatoir of Scotland. Also a fine clarinettist.
Laura Wilkie violin/ vocals-Laura is a wonderful interpreter of Scottish traditional tunes and composer of new ones. As well as being a member of the award winning Kinnaris Quintet, and the joyful Glasgow jazz outfit, Fat Suit, Laura is much in demand as a string arranger/session player on the Glasgow pop scene.
Staffan Lindfors-double bass/ vocals- Staffan is the bands road hog-no stranger to the pop charts as a long standing member of Östen Med Resten, and the brilliant Irish Trad band Quilty, shortly to tour Sweden with Andy Irvine. Aside from his touring activities Staffan is an accomplished songwriter. Sofia Karlssons "Dalarna Från Ovan" was written by him.
Ian Carr-guitar/vocals-quite good on the geetar since 1985. Widely considered to be one of the best and most original guitarists of his generation, in his own projects, Swåp, Carr & Roswall, Ian Carr & The Various Artists and for his work as side person of choice for many acclaimed artists in the folk music world– including Kate Rusby, Kris Drever, Eddi Reader. "The most innovative… and sympathetic guitarist that Britain has produced in years, in any genre…" – Froots Magazine
You can see our videos here:
And listen to our tunes here on the dreaded Spotify: